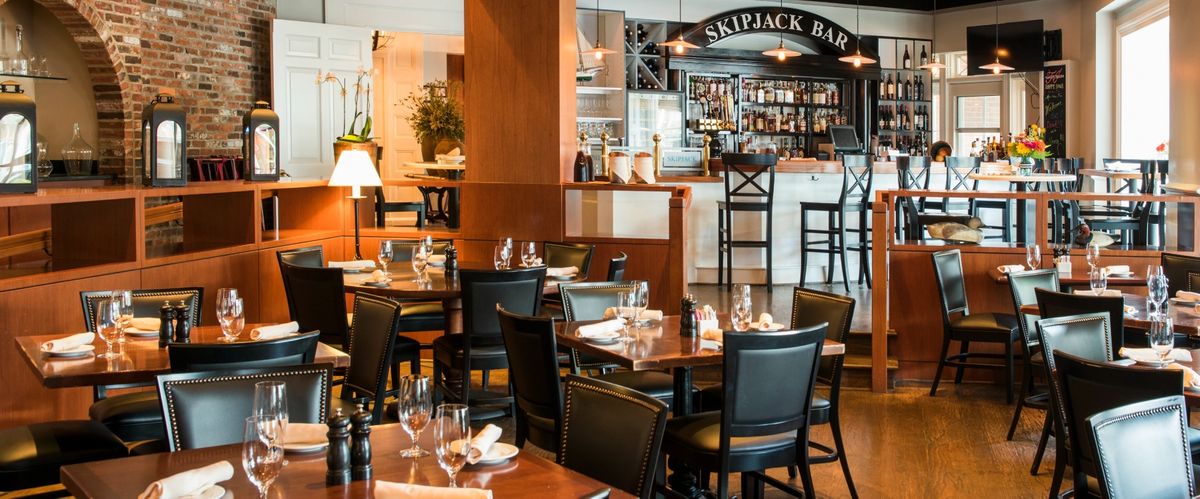 Happenings & Special Events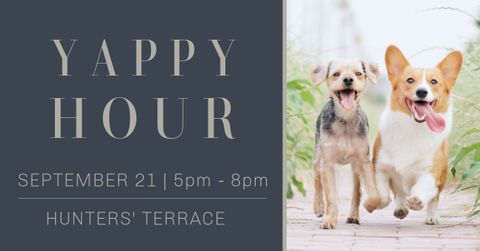 YAPPY HOUR
BARK your calendar for Tuesday, September 21st, 5:00 pm-8:00 pm for YAPPY HOUR. We invite canines and their companions to enjoy a relaxing evening on Hunters' Terrace. Bring your pooch and enjoy our menu plus a special DOGGIE DINNER MENU prepared by Executive Chef Daniel Pochron. This event is in partnership with Joel Gott Wines and the Maryland SPCA.
$20 Bottles of Joel Gott Wines + Photo Booth Fun & Giveaways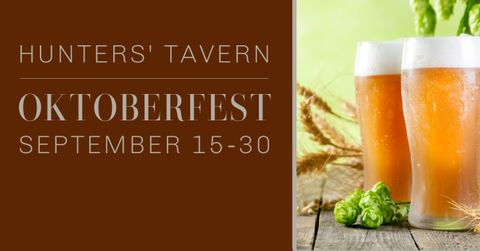 HUNTERS' TAVERN OKTOBERFEST
Join us in Hunters' Tavern for great food, great beer and great fall fun! We will be offering a special OKTOBERFEST menu in addition to our full dinner menu September 15-30.
FROM THE KITCHEN
GEMISCHTER SALAD | $10
trio of salads, beet, cucumber, and carrot
KARTOFFELPUFFER | $10
potato pancakes served with sour cream and applesauce
NURNBERGER BRAT | $18
with sauerkraut and mashed taters
KNOCKWURST | $18
served with bavarian potato salad
FROM THE BAR
BITBURGER DRAFT $6 | ERDINGER DRAFT $6 | ROTHAUS $5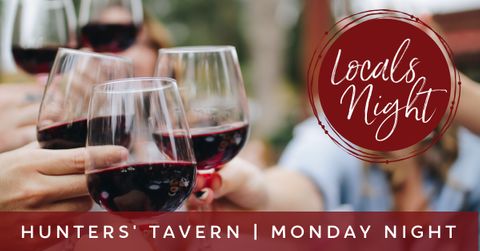 Locals Night at Hunters' Tavern
Hunters' Tavern loves our local community! We invite Talbot County locals to enjoy a two course dinner for $25 at Hunters' Tavern every Monday! For reservations, call Hunters' Tavern at 410.822.4034.
FIRST COURSE | select one
Snapping Turtle (cup) | House Salad | Caesar Salad
SECOND COURSE | select one
Hunters' Tavern Crab Cake | Daniel's Meatloaf | Chicken Picatta
Enjoy select bottles of wine for $20.
*Locals Night will not be offered September 15-30 as we will be running our OKTOBERFEST specials.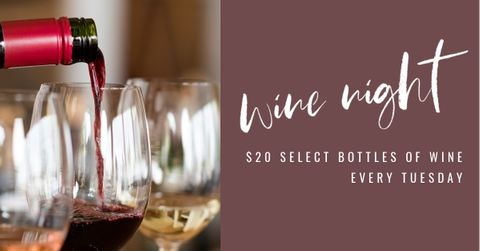 WINE NIGHT
Every Tuesday, our bartenders hand pick select bottles of wine for $20 at Hunters' Tavern. Wine night can be enjoyed in the bar, dining room and on the terrace.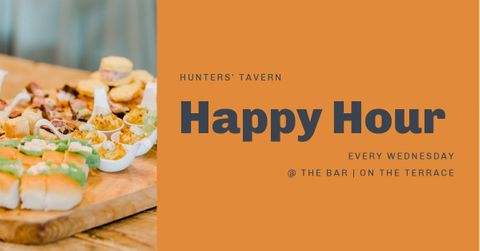 Happy Hour
Happy Hour is back! Join us in the Tavern Bar and on the Terrace every Wednesday from 4pm - 7pm for weekly food and drink specials.
Just a sampling of our Happy Hour menu (may change weekly)...
Gyro Tacos | Shrimp Cocktail | BBQ Pork Sliders | Corn & Crab Fritters | Buck a Shuck
*Happy Hour will not be offered September 15-30 as we will be running our OKTOBERFEST specials.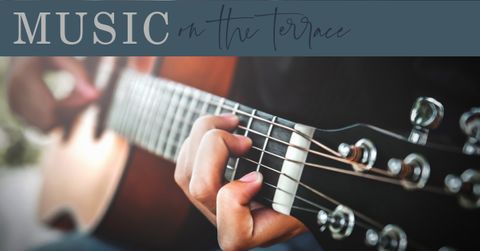 Music on the Terrace
Join us for Music on the Terrace at Hunters' Tavern on Wednesdays from 4:00 pm-7:00 pm. Enjoy the sounds of local musicians and our delicious happy hour menu plus our full dinner menu. Reservations are recommended.
September 1 | Allie Pinsky
September 8 | Wayne Wheeler
September 15 | Dave Hawkins
September 22 | Anna Burguss
September 29 | Mason Sheehan
Musicians and dates are subject to change.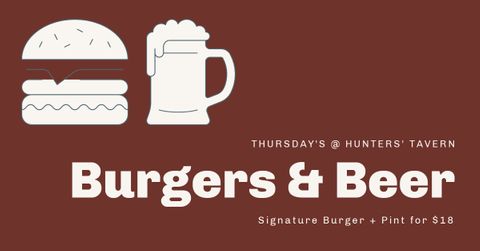 BURGERS & BEER
Join us every Thursday for Burgers & Beer at Hunters' Tavern! Enjoy Hunters' Tavern's signature Tavern Burger with a pint of your favorite beer for only $18!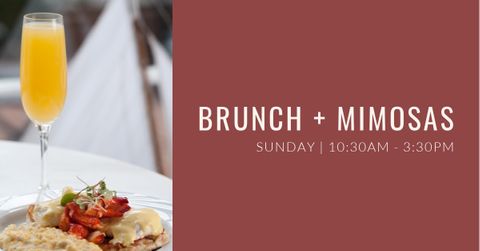 BRUNCH + MIMOSAS
Brunch is always a good idea! Join us on Sunday's from 10:30am-3:30pm for our delicious BRUNCH MENU + $5 mimosas in cranberry, orange or grapefruit and peach Bellini's.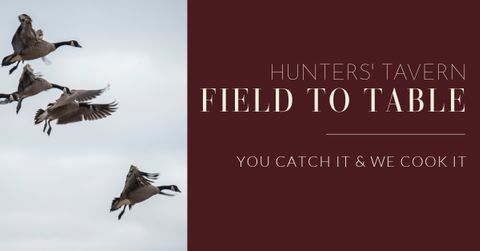 Field to Table
Did you know? Hunters' Tavern will cook your fresh catch after a day of hunting! Bring in your cleaned fresh fowl or fish filets to Hunters' Tavern in the morning, and come back to enjoy your catch for dinner! Advanced reservations are required. Make your reservation by calling Hunters' Tavern at 410.822.4034.