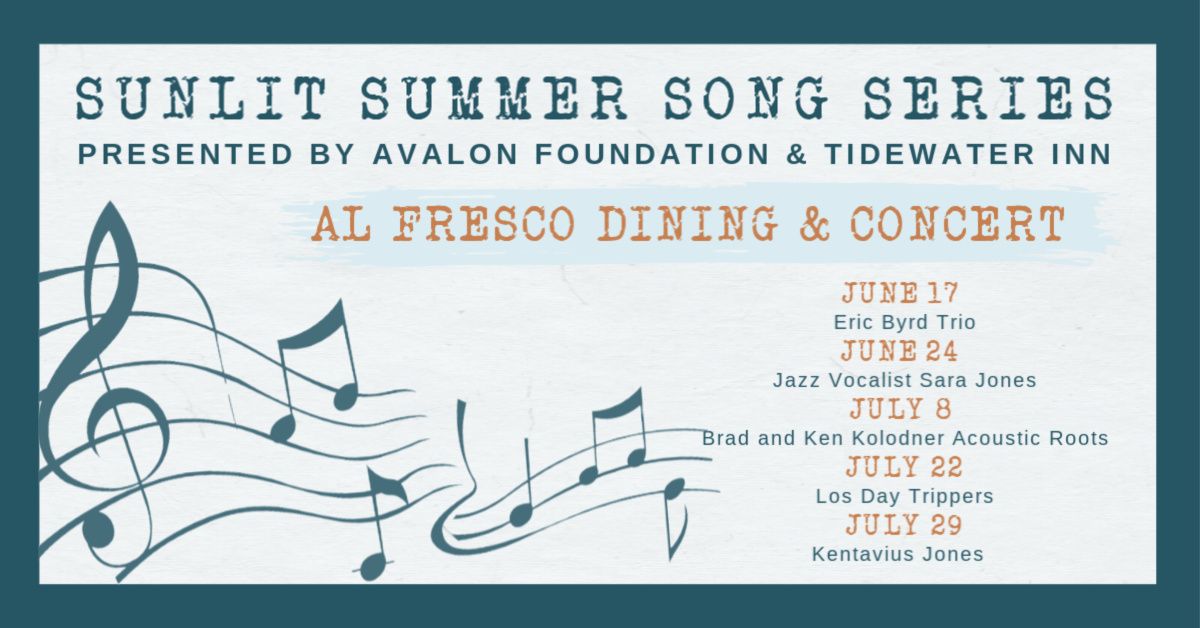 The Avalon Foundation and Tidewater Inn announce – Sunlit Summer Song Series, an al fresco style dinner and concert series this summer. As community pillars, the Avalon Foundation and Tidewater Inn are partnering to bring an innovative dinner and a show style experience to downtown Easton. This ticketed event features weekly world class performances combined with a prix fixe dinner curated by Tidewater Inn's Executive Chef, Daniel Pochron. The Sunlit Summer Song Series will take place on Wednesday evenings on the terrace of Hunters' Tavern located at the Tidewater Inn. Tickets are $100 per guest and include the cost of the performance and dinner excluding alcohol, tax and gratuity.
For reservations, contact Hunters' Tavern at 410.822.4034.
Wednesday, July 8 | Brad and Ken Kolodner Acoustic Roots
Wednesday, July 22 | Los Day Trippers
Wednesday, July 29 | Kentavius Jones
Reservations starts at 6:00pm with music from 7:00pm to 8:30pm.
FIRST COURSE | Select One
FARM SALAD red acres greens, blueberries, watermelon, feta, candied pecans, lemon oil [GF]
MARYLAND CRAB SOUP tomato, vegetable [GF]
*****
SECOND COURSE | Select One
HUNTERS' TAVERN CRAB CAKE single jumbo lump cake, fried green tomatoes, charred corn relish [GF]
ZA'ATAR DUSTED SCOTTISH SALMON peas, cukes, tomatoes, romaine, mint, lemon vinaigrette [GF]
PROSCIUTTO & FONTINA STUFF AIRLINE CHICKEN BREAST grilled baby zucchini, tomato, cornbread panzanella salad, red eye gravy
THIRD COURSE | Select One
BLACKBERRY MASCARPONE TART
DOUBLE CHOCOLATE GODIVA CHEESECAKE
The historic Tidewater Inn – a timelessly refined luxury boutique hotel ideally situated in the heart of downtown Easton on Maryland's Eastern Shore. As a mainstay in the community – community partnerships are a core value for the Tidewater Inn and its owners.
"For many years, our partnership with the Avalon Foundation for the Outdoor Summer Concert Series has been a wonderful success not only for us but for the Easton community. We all had to think outside the box this year to provide our guests with a similar experience. And so the idea for the Sunlit Summer Song Series was born." – Lauren Catterton, Tidewater Inn General Manager
The Avalon Foundation and Tidewater Inn have had a very successful and long running partnership over the years. At a time when the Avalon Theatre cannot open and is unable to host the traditional Tidewater Inn Concert Series, this new summer series is a natural partnership and a great way to support downtown Easton and the arts community. The Avalon Foundation and Theatre remain grateful for the communities continued support and encouragement as they navigate through innovative ideas through partnerships to keep arts alive and thriving on the Eastern Shore.
"This summer you can eat a great meal, listen to fantastic live music all in the open air, and at the same time ensure that anchor businesses in your community survive what is an existential threat. Strangely during a time that we are being told to stay apart, the way that we will all come through this pandemic is through successful partnerships. I am grateful to the good people at the Tidewater Inn and Wylder Hotel joining with the Avalon Foundation to present the Sunlit Summer Song Series. Together we may have come up with the most enjoyable altruism ever." – Al Bond, Avalon Foundation President & CEO