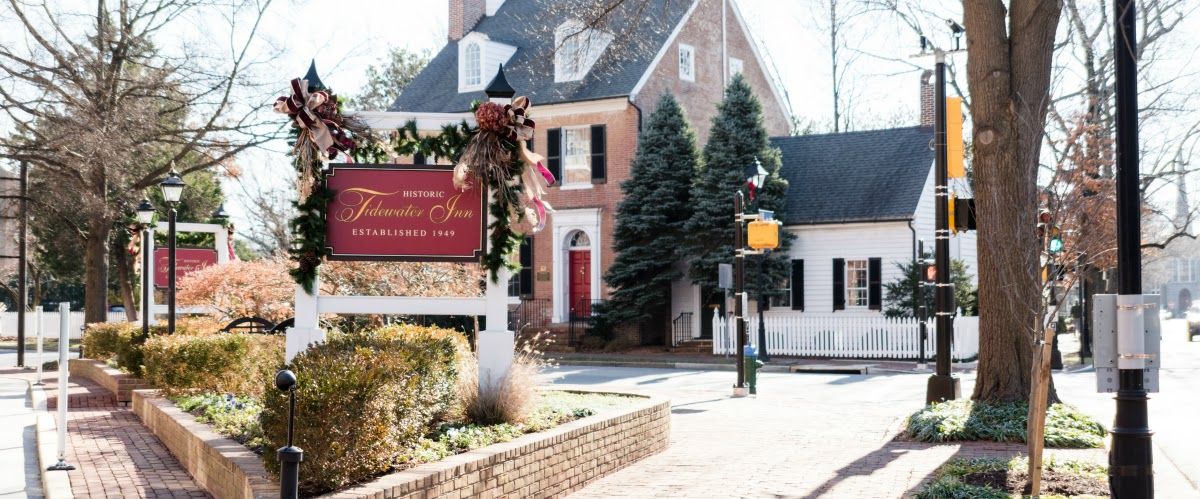 Holidays at the Tidewater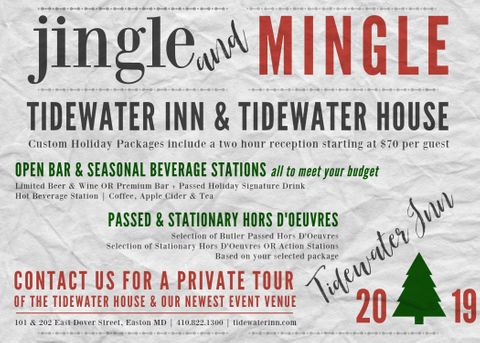 Holiday Parties at the Tidewater Inn
Celebrate the holidays at the Tidewater Inn and Tidewater House. We invite you to select from an array of venues that will accommodate 10-200 guests each ideal for your holiday party. Our exceptional catering and event staff will allow you to focus on the magic of the season rather than worrying about event details. Select from casual and formal menus with customized holiday packages.
Contact | Sara Rosen, Corporate and Group Rooms Manager
410.822.1300 ext. 304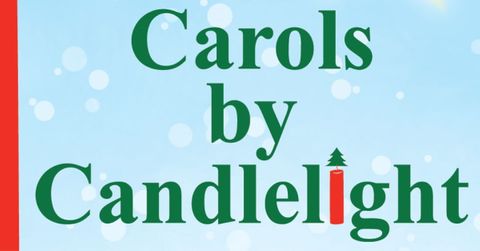 Carols by Candlelight
Friends of Hospice is excited to announce a new addition to The Festival of Trees : Carols by Candlelight for all families in Talbot County. This free event will take place outdoors on Saturday, November 30, 2019 in front of the Tidewater Inn from 5:00 PM to 7:00 PM. Choral groups, choirs, bell ringers & a symphony will perform.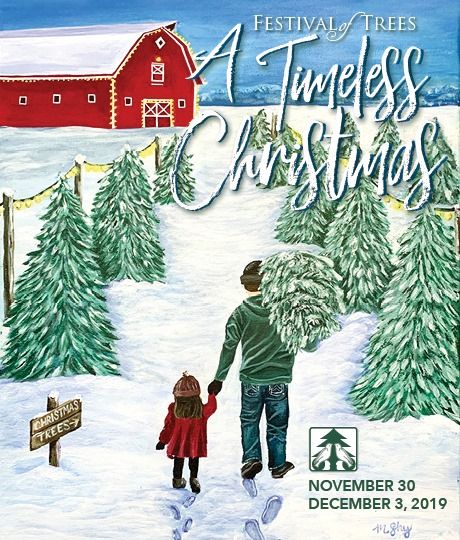 Festival of Trees
The Friends of Hospice is pleased to present "A Timeless Christmas" at the Tidewater Inn from November 30 to December 3, 2019. The Festival of Trees is steeped in a rich history of helping Talbot Hospice help those celebrating the end of life.
Please note tickets must be purchased through https://festival-of-trees.org/.
PREVIEW PARTY
Friday, November 29, 6 p.m.
Tidewater Inn Gold Room
$60 per person
FESTIVAL OF TREES
Tidewater Inn Gold Room
Saturday, November 30, 10 a.m. - 8 p.m.
Sunday, December 1, 11 a.m. - 8 p.m.
Monday, December 2, 10 a.m. - 8 p.m.
Tuesday, December 3, 10 am. - 6 p.m.
Adults - $5, Children under 12 - $1, Children under 1 - free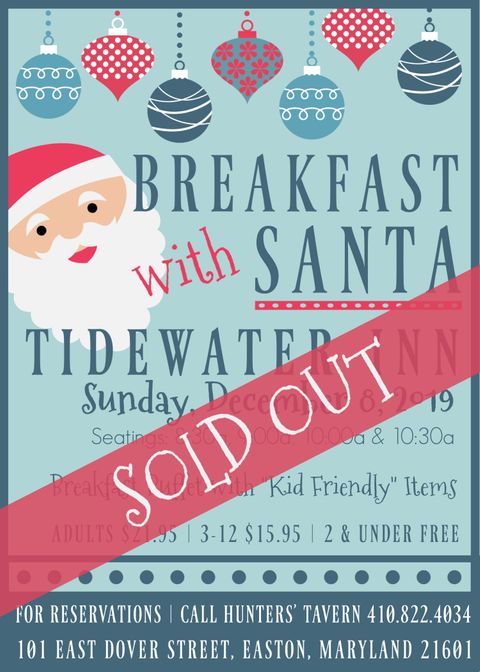 Breakfast with Santa
BREAKFAST WITH SANTA IS SOLD OUT!
We just heard from the North Pole. Santa Claus will be back at the Tidewater Inn for BREAKFAST WITH SANTA on Sunday, December 8th at the Tidewater Inn with seatings at 8:30am, 9a, 10am and 10:30am.
Breakfast buffet with specialty "kid friendly" items + "reindeer food" for the kiddies to take home.
Adults $21.95 | 3-12 $15.95 | 2 & Under
For reservations, contact Hunters' Tavern at 410.822.4034.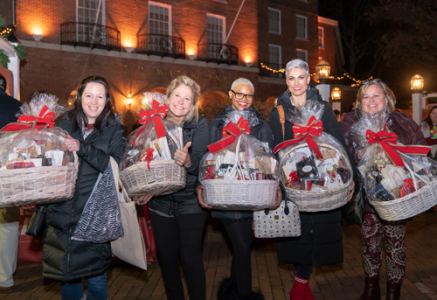 Moonlight Madness
Come out on Friday, December 6 for Easton's fourth annual Moonlight Madness event! There will be music in the streets, pictures with Santa, in-store events, and giveaways. For more information about holiday festivities in Easton, visit Discover Easton.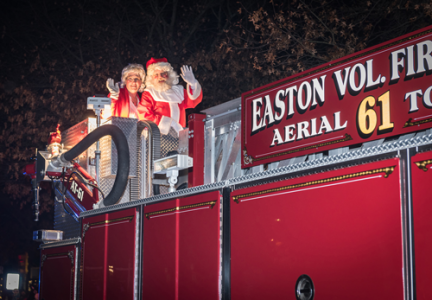 Holiday Parade
Kicking off with the annual tree lighting in Thompson Park at 6 p.m. Come to Easton's largest parade of the year and see the season's best floats, classic cars, bands, and more throughout the downtown business district! For more information about holiday festivities in Easton, visit Discover Easton.

Elf the Music
This year's Avalon Theatre Holiday Show will be ELF THE MUSICAL! For tickets and more information, visit the Avalon's website - HERE.
Dec 13, 14: 7 p.m. | Dec 15: 2 p.m. | Dec 19, 20, 21: 7 p.m. | Dec 21, 22: 2 p.m.
AVALON THEATER HOTEL PACKAGE
Truly experience the charm and beauty of downtown Easton as we pair an overnight stay at the Tidewater Inn and a pre-theater three course dinner at Hunters' Tavern. We will even pick up your tickets and have them for you at the front desk. More Details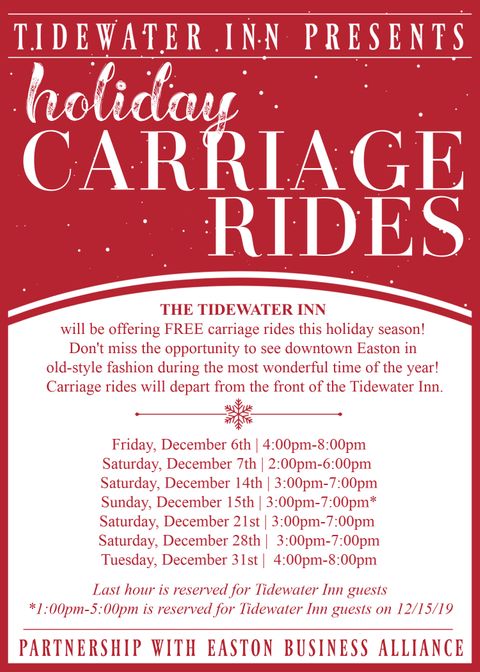 Holiday Carriage Rides
The Tidewater Inn will be offering FREE carriage rides this holiday season! Don't miss the opportunity to see downtown Easton in old-style fashion during the most wonderful time of the year! Carriage rides will depart from the front of the Tidewater Inn.
Friday, December 6th | 4:00pm-8:00pm
Saturday, December 7th | 2:00pm-6:00pm
Saturday, December 14th | 3:00pm-7:00pm
Sunday, December 15th | 3:00pm-7:00pm*
Saturday, December 21st | 3:00pm-7:00pm
Saturday, December 28th | 3:00pm-7:00pm
Tuesday, December 31st | 4:00pm-8:00pm
Last hour is reserved for Tidewater Inn guests
*1:00pm-5:00pm is reserved for Tidewater Inn guests on 12/15/19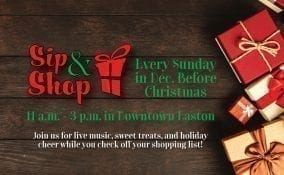 Sip & Shop Sundays
Every Sunday in December leading up to Christmas is Sip & Shop Sundays. Participating downtown Easton stores will be open and offering sweet treats, creative holiday drinks, and the best gifts to purchase loved ones for the holidays. There is no better way to enjoy your Christmas shopping experience.
Take a break from all the shopping and enjoy SUNDAY BRUNCH at Hunters' Tavern from 10:30AM - 3:00PM.